Asahi Kasei Americas – Offering Opportunities in Multiple Businesses
Recruiting key talent is a cross-company effort across many of Asahi Kasei's United States locations. Businesses collaborate with each other on projects and come together frequently and our goal is to provide opportunities across locations. We will always develop our team members and promote from within when possible.
Our Asahi Kasei United States locations are listed below to provide you with a snap shot of where we are and what we do. Asahi Kasei has ample opportunities but keep in mind that some of our locations are more active in campus recruiting, rotational programs and intern placement than others.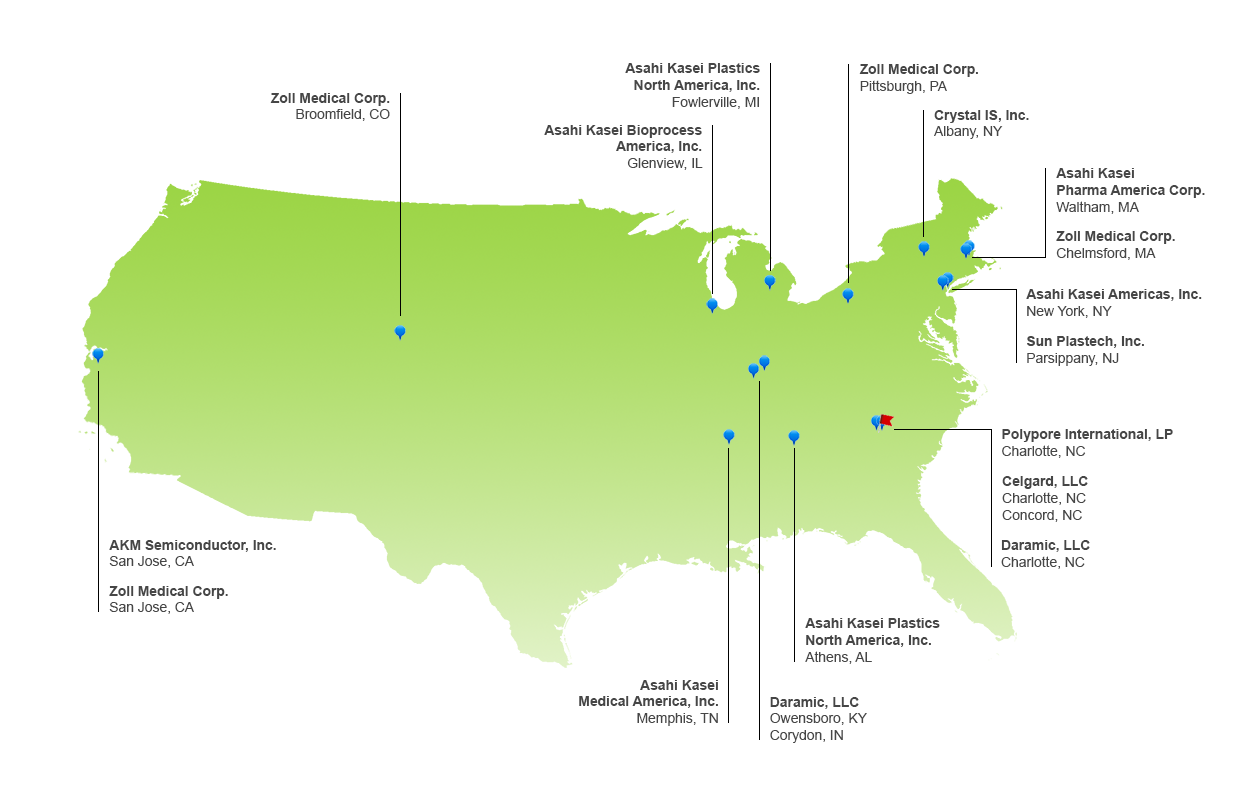 Asahi Kasei Plastics North America, Inc.
Designs, formulates, and compounds plastic resins to serve automotive, consumer, energy, industrial, and furniture applications.
Crystal IS , Inc.
Manufacture deep ultraviolet LEDs that are used for disinfection and sensor applications used in a wide variety of products from point-of-use water systems to medical devices to real-time sensors
Asahu Kasei Bioprocess America, Inc.
Sell Planova™ virus removal filters in the United States and develop and manufacture related bioprocess equipment that is sold globally.
Daramic, LLC
Develop and manufacture Daramic® lead-acid battery separators used in cars, trucks, buses, forklifts, golf carts, and renewable energy storage systems.
AKM Semiconductor, Inc.
Located in the heart of Silicon Valley, the Microelectronics Business is expanding partnerships with leading companies for Asahi Kasei sensors and semiconductor products in the Americas.
Sun Plastech, Inc.
Manufacture Asaclean™ purging compound used by plastics manufacturers for machine cleaning that supports a lean process with reduced scrap and waste.
Celgard, LLC
Develop and manufacture Celgard® lithium-ion battery separators used in electric drive vehicles (EDVs), consumer electronics, renewable energy storage systems and other specialty applications.
Polypore International, LP
Polypore International is the corporate headquarters for Celgard and Daramic. Strategic direction for the businesses is established here and supported globally with centralized information technology, legal, finance, human resources, ESH, and communications services.
Asahi Kasei Americas, Inc.
This is the corporate support office for Asahi Kasei Group's North American operations. A variety of HR, training and administrative services are provided from this site.
Asahi Kasei Medical America, Inc.
Brings leading hemodialysis, therapeutic apheresis, transfusion therapy and virus removal products to patients around the world.
Asahi Kasei Pharma America Corp.
Supports clinical development of Recomodulin™ anticoagulant for sepsis patients and provides a US operational base for the global development of other new Asahi Kasei Pharma drugs.
Zoll Medical Corp.
Develop, manufacture and market medical devices and software solutions for emergency care. Products include defibrillation and monitoring, circulation and CPR feedback, therapeutic temperature management, and ventilation.
Polypore also has facilities and offices in Germany, France, Brazil, Japan, China, Korea, India and Thailand. The Asahi Kasei Group operations are strategically located around the world. View a full world map of locations by going here.